Passion for Sports
Worldwide delivery
Call us: +31 416 652 803
adidas adilette Shower Slipper

Take good care of your tired feet after exercising! These adidas adilette shower slippers have a contoured footbed with Cloudfoam cushioning that gives you all the comfort you want after a workout or game. The slippers are lightweight and have a bandage strap that is finished with the classic 3-stripes.

Features and Benefits:
- Lightweight
- Contoured footbed
- Classic 3-Stripes
- Cloudfoam cushioning

Size recommendation
Order at least one size bigger than your normal shoe size. The adilette slippers generally come in a smaller size.
Size Chart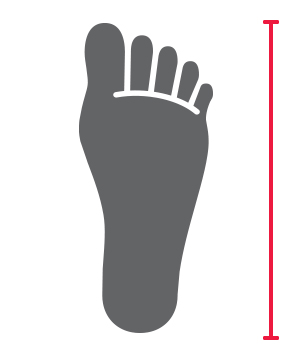 Choose the right size
Doubt about the right size? No problem at all! The size chart below can be used as a guideline for choosing the right shoe size.
The best time to measure your feet is at the end of the day. Because of the warmth and movement your foot swells a bit during the day.
Do you fall exactly between two sizes? Then we advise you to always choose the bigger size. If this size turns out to be too big, you can always return the shoes free of charge!
| Length heel-toe in CM | EU size | UK size | US Men |
| --- | --- | --- | --- |
| 22.1 | 36 | 3.5 | 4 |
| 22.5 | 36(2/3) | 4 | 4.5 |
| 22.9 | 37(1/3) | 4.5 | 5 |
| 23.3 | 38 | 5 | 5.5 |
| 23.8 | 38(2/3) | 5.5 | 6 |
| 24.2 | 39(1/3) | 6 | 6.5 |
| 24.6 | 40 | 6.5 | 7 |
| 25 | 40(2/3) | 7 | 7.5 |
| 25.5 | 41(1/3) | 7.5 | 8 |
| 25.9 | 42 | 8 | 8.5 |
| 26.3 | 42(2/3) | 8.5 | 9 |
| 26.7 | 43(1/3) | 9 | 9.5 |
| 27.1 | 44 | 9.5 | 10 |
| 27.6 | 44(2/3) | 10 | 10.5 |
| 28 | 45(1/3) | 10.5 | 11 |
| 28.4 | 46 | 11 | 11.5 |
| 28.8 | 46(2/3) | 11.5 | 12 |
| 29.3 | 47(1/3) | 12 | 12.5 |
| 29.7 | 48 | 12.5 | 13 |
| 30.1 | 48(2/3) | 13 | 13.5 |
| 30.5 | 49(1/3) | 13.4 | 14 |
| 31 | 50 | 14 | 14.5 |