Passion for Sports
Worldwide delivery
Call us: +31 416 652 803


Features and benefits:
- Bootie construction
- Special Mizuno Wave technology provides both cushioning and flexibility
- MIZUNO ENERZY in midsole
- DynamotionFit provides an optimal fit
- Special reinforced heel cap for increased stability
The Mizuno Wave Mirage 4 is specifically designed for indoor athletes who want the fastest, most agile shoe possible and want to maintain a good connection to the floor with every action. Thanks to the new innovative bootie construction, this model offers you the best fit in its class while maintaining the feeling of moving close to the ground. This allows you to move smoothly and freely through the field. The shoe features Mizuno Wave technology for dynamic cushioning and agility and MIZUNO ENERZY in the midsole for optimal responsiveness and resilience. The D-Flex Groove in the sole provides unparalleled acceleration as it naturally guides the movements of your feet. This featherweight shoe is thus the new favorite for especially fast and nimble players.
Size Chart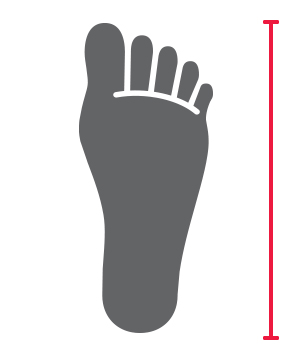 Choose the right size
Doubt about the right size? No problem at all! The size chart below can be used as a guideline for choosing the right shoe size.
The best time to measure your feet is at the end of the day. Because of the warmth and movement your foot swells a bit during the day.
Do you fall exactly between two sizes? Then we advise you to always choose the bigger size. If this size turns out to be too big, you can always return the shoes free of charge!
| Length heel-toe in CM | EU size | UK size |
| --- | --- | --- |
| 22.5 | 36 | 3.5 |
| 23 | 36.5 | 4.0 |
| 23.5 | 37 | 4.5 |
| 24 | 38 | 5 |
| 24.5 | 38.5 | 5.5 |
| 25 | 39 | 6 |
| 25.5 | 40 | 6.5 |
| 26 | 40.5 | 7 |
| 26.5 | 41 | 7.5 |
| 27 | 42 | 8 |
| 27.5 | 42.5 | 8.5 |
| 28 | 43 | 9 |
| 28.5 | 44 | 9.5 |
| 29 | 44.5 | 10 |
| 29.5 | 45 | 10.5 |
| 30 | 46 | 11 |
| 30.5 | 46.5 | 11.5 |
| 31 | 47 | 12 |
| 31.5 | 48 | 12.5 |
| 32 | 48.5 | 13 |
| 32.5 | 49.5 | 13.5 |
| 33 | 50 | 14 |
| 33.5 | 50.5 | 14.5 |
| 34 | 51 | 15 |