Passion for Sports
Worldwide delivery
Call us: +31 416 652 803
The new sole concept with a 5mm heel offset and TRUSSTIC™ support technology are based on the success of ASICS Sky Elite indoor shoe. This supports your acceleration and helps you make more powerful jumps when you go for the ball.
Features and benefits:
- Seamless upper
- Improved support and flexibility
- TRUSSTIC™ support technology: improving stability
- FLYTEFOAM™ in midsole: provides optimal cushioning
- 5mm heel strike
- Sustainable insole: is manufactured using a dyeing process that reduces water consumption by about 33% and CO2 emissions by about 45% compared to traditional dyeing techniques
The ASICS Beyond FF: For Higher Jumps and Comfort
Discover everything about the technologies of the new ASICS Beyond FF. Read more
The ASICS Beyond FF is specially designed for anyone who wants to experience more support and cushioning while benefiting from speed and stability. With the further developed collar and seamless construction in the upper of the shoe, you will move through the pitch with even more comfort and confidence.
Size Chart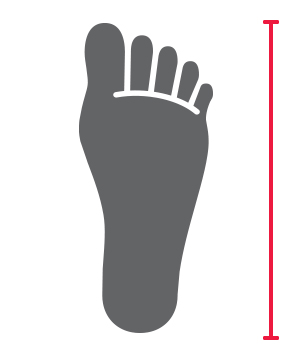 Choose the right size
Doubt about the right size? No problem at all! The size chart below can be used as a guideline for choosing the right shoe size.
The best time to measure your feet is at the end of the day. Because of the warmth and movement your foot swells a bit during the day.
Do you fall exactly between two sizes? Then we advise you to always choose the bigger size. If this size turns out to be too big, you can always return the shoes free of charge!
| Length heel-toe in CM | EU size | UK size | US Men |
| --- | --- | --- | --- |
| 22.5 | 36 | 3 | 4 |
| 23 | 37 | 3.5 | 4.5 |
| 23.5 | 37.5 | 4 | 5 |
| 24 | 38 | 4.5 | 5.5 |
| 24.5 | 39 | 5 | 6 |
| 25 | 39.5 | 5.5 | 6.5 |
| 25.25 | 40 | 6 | 7 |
| 25.5 | 40.5 | 6.5 | 7.5 |
| 26 | 41.5 | 7 | 8 |
| 26.5 | 42 | 7.5 | 8.5 |
| 27 | 42.5 | 8 | 9 |
| 27.5 | 43.5 | 8.5 | 9.5 |
| 28 | 44 | 9 | 10 |
| 28.25 | 44.5 | 9.5 | 10.5 |
| 28.5 | 45 | 10 | 11 |
| 29 | 46 | 10.5 | 11.5 |
| 29.5 | 46.5 | 11 | 12 |
| 30 | 47 | 11.5 | 12.5 |
| 30.5 | 48 | 12 | 13 |
| 31 | 49 | 13 | 14 |
| 32 | 50.5 | 14 | 15 |
| 33 | 51.5 | 15 | 16 |