Passion for Sports
Worldwide delivery
Call us: +31 416 652 803
Unfortunately, this product is no longer available.


Injecting FLYTEFOAM ™ Propel technology into the midsole, this versatile indoor model offers a responsive step. Rearfoot GEL ™ technology updates the shape of its predecessor to provide an even more cushioned experience during hard landings.

Features and benefits

NC Rubber Outsole
A compactly manufactured sole that ensures that the cushioning is very good and that the grip on both dry and wet surfaces is not lost.

Personal Heel Fit (PHF)
Three layers of the so-called memory foam, this ensures a personalized fit.

Propulsion Plate
The propulsion plate is a special unit in the forefoot that allows a more efficient and better propulsion.

AHAR + ®
AHAR + is a lighter and thinner version of the Asics High Abrasion Resistant Rubber (AHAR). It is placed on the commonly used areas of the outsole to significantly reduce wear.

California Slip Lasting
Thanks to the California Slip Lasting technology, your foot fits extra firmly in the shoe and slipping is prevented.

Rearfoot and Forefoot GEL® Cushioning Systems
Significantly weakens shocks at the time of landing and during propulsion, as well as ensuring smooth pronation.

Removable Sockliner
The sole can be removed so that you can replace it with your own (custom) sole.

SpEVA Midsole Material
Due to the special composition, the midsole takes less time to return to the original shape. This makes pronation easier and it takes less energy from the volleyball player.

SpEVA 55
Employs 55 degree slope provides a soft and sturdy sole.

Trusstic System
A plastic element placed under the midfoot that gives extra stability to the foot and also saves weight.

The ASICS Gel-Beyond 6 is the perfect indoor shoe for players who want a combination of speed, stability and comfort. This lightweight shoe has been very popular among all indoor athletes for years. The upper of this shoe consists of a soft mesh lining to create a reinforced stability in the forefoot, while the air supply remains sufficient to keep the feet cool during competitions.
Size Chart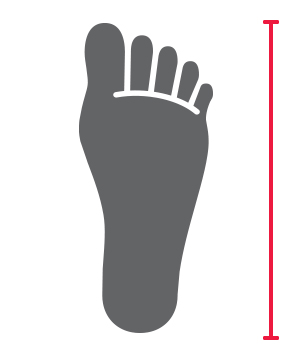 Choose the right size
Doubt about the right size? No problem at all! The size chart below can be used as a guideline for choosing the right shoe size.
The best time to measure your feet is at the end of the day. Because of the warmth and movement your foot swells a bit during the day.
Do you fall exactly between two sizes? Then we advise you to always choose the bigger size. If this size turns out to be too big, you can always return the shoes free of charge!
| Length heel-toe in CM | EU size | UK size | US Men |
| --- | --- | --- | --- |
| 22.5 | 36 | 3 | 4 |
| 23 | 37 | 3.5 | 4.5 |
| 23.5 | 37.5 | 4 | 5 |
| 24 | 38 | 4.5 | 5.5 |
| 24.5 | 39 | 5 | 6 |
| 25 | 39.5 | 5.5 | 6.5 |
| 25.25 | 40 | 6 | 7 |
| 25.5 | 40.5 | 6.5 | 7.5 |
| 26 | 41.5 | 7 | 8 |
| 26.5 | 42 | 7.5 | 8.5 |
| 27 | 42.5 | 8 | 9 |
| 27.5 | 43.5 | 8.5 | 9.5 |
| 28 | 44 | 9 | 10 |
| 28.25 | 44.5 | 9.5 | 10.5 |
| 28.5 | 45 | 10 | 11 |
| 29 | 46 | 10.5 | 11.5 |
| 29.5 | 46.5 | 11 | 12 |
| 30 | 47 | 11.5 | 12.5 |
| 30.5 | 48 | 12 | 13 |
| 31 | 49 | 13 | 14 |
| 32 | 50.5 | 14 | 15 |
| 33 | 51.5 | 15 | 16 |