Passion for Sports
Worldwide delivery
Call us: +31 416 652 803


Features and benefits:
- TWISTRUSS™ technology in the midsole with FLYTEFOAM™ Propel cushioning
- DYNAWRAP™ lacing system
- GEL™ technology in the rearfoot
he ASICS GEL-SKY Elite GS for children is specially designed for many fast movements and high, powerful jumps. This shoe helps you to be resilient in every action and reduces energy loss. Thanks to the curved heel design, you can easily make transitions of movement, allowing you to properly combine forward and backward movements and jumps. The TWISTRUSS™ technology of the midsole with FLYTEFOAM™ Propel cushioning increases jump power through a wider forefoot, and the DYNAWRAP™ lacing system supports the comfort of the shoe. Together, these technologies improve stability for abrupt stops and reduce power loss during jumps.
Size Chart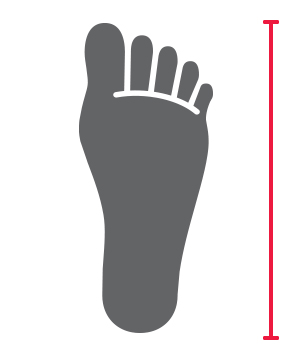 Choose the right size
Doubt about the right size? No problem at all! The size chart below can be used as a guideline for choosing the right shoe size.
The best time to measure your feet is at the end of the day. Because of the warmth and movement your foot swells a bit during the day.
Do you fall exactly between two sizes? Then we advise you to always choose the bigger size. If this size turns out to be too big, you can always return the shoes!
| Length heel-toe in CM | EU size | UK size | US Size |
| --- | --- | --- | --- |
| 17 | 27 | K9 | K10 |
| 17.25 | 28 | K9H | K10H |
| 17.5 | 28.5 | K10 | K11 |
| 18 | 29.5 | K10H | K11H |
| 18.5 | 30 | K11H | K12 |
| 19 | 30.5 | K11H | K12H |
| 19.5 | 31.5 | K12 | K13 |
| 19.75 | 32 | K12H | K13H |
| 20 | 32.5 | K13 | 1 |
| 20.5 | 33 | K13.5 | 1.5 |
| 21 | 33.5 | 1 | 2 |
| 21.5 | 34.5 | 2 | 3 |
| 22 | 35 | 2 | 3 |
| 22.25 | 35.5 | 2.5 | 3.5 |
| 22.5 | 36 | 3 | 4 |
| 23 | 37 | 3.5 | 4.5 |
| 23.5 | 37.5 | 4 | 5 |
| 24 | 38 | 4.5 | 5.5 |
| 24.5 | 39 | 5 | 6 |
| 25 | 39.5 | 535 | 6.5 |