Passion for Sports
Worldwide delivery
Call us: +31 416 652 803


Kenmerken en voordelen
- Middenhoog model
- TWISTRUSS™-technologie in de tussenzool met FLYTEFOAM™ Propel-demping
- DYNAWRAP™-vetersysteem
- GEL™-technologie in de achtervoet

Maatadvies
Bestel minimaal één maat groter dan je normale schoenmaat. De ASICS Sky Elite FF 2 valt over het algemeen kleiner uit.
De ASICS Sky Elite FF MT 2 indoorschoen is speciaal ontwikkeld voor vele snelle bewegingen en hoge en krachtige sprongen. Deze schoen helpt je in iedere actie veerkracht te kunnen handelen en vermindert energieverlies. Dankzij het gebogen hielontwerp kun je gemakkelijk bewegingsovergangen maken waardoor je voorwaarts, achterwaarts en sprongen goed kan combineren. De TWISTRUSS™-technologie van de tussenzool met FLYTEFOAM™ Propel-demping verhoogt de sprongkracht door een bredere voorvoet en het DYNAWRAP™-vetersysteem ondersteunt de comfort van de schoen. Samen verbeteren deze technologieën de stabiliteit bij het remmen en verminderen ze het vermogensverlies tijdens het maken van sprongen.
Size Chart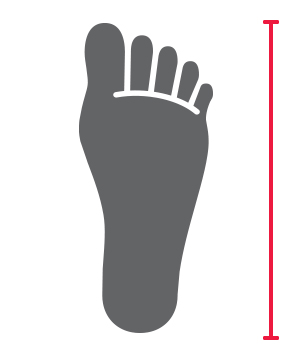 Choose the right size
Doubt about the right size? No problem at all! The size chart below can be used as a guideline for choosing the right shoe size.
The best time to measure your feet is at the end of the day. Because of the warmth and movement your foot swells a bit during the day.
Do you fall exactly between two sizes? Then we advise you to always choose the bigger size. If this size turns out to be too big, you can always return the shoes!
| Length heel-toe in CM | EU size | UK size | US Women |
| --- | --- | --- | --- |
| 22.5 | 35.5 | 3 | 5 |
| 22.75 | 36 | 3.5 | 5.5 |
| 23 | 37 | 4 | 6 |
| 23.5 | 37.5 | 4.5 | 6.5 |
| 24 | 38 | 5 | 7 |
| 24.5 | 39 | 5.5 | 7.5 |
| 25 | 39.5 | 6 | 8 |
| 25.5 | 40 | 6.5 | 8.5 |
| 25.75 | 40.5 | 7 | 9 |
| 26 | 41.5 | 7.5 | 9.5 |
| 26.5 | 42 | 8 | 10 |
| 27 | 42.5 | 8.5 | 10.5 |
| 27.5 | 43.5 | 9 | 11 |
| 28 | 44 | 9.5 | 11.5 |
| 28.5 | 44.5 | 10 | 12 |
| 28.75 | 45 | 10.5 | 12.5 |