Passion for Sports
Worldwide delivery
Call us: +31 416 652 803
Unfortunately, this product is no longer available.


Features and Benefits:

Open Mesh Upper
The upper of the shoe is well ventilated and light. This way the foot gets fresh air from the upper as well.

California Slip Lasting
California Slip Lasting technology provides a secure hold for the foot and helps prevent slippage.

Forefoot GEL® Cushioning Systems
Significantly softens shocks at the point of impact and during take-off, as well as ensuring a smooth run.

Trusstic System
A plastic element placed under the midfoot that provides additional stability to the foot and also saves weight.
The ASICS Upcourt 4 GS for kids is a comfortable shoe specially designed for all indoor athletes who are looking for flexibility, support and durability. The shoe offers great stability during sports and ensures that discomfort or injuries are prevented. This shoe is made with synthetic leather overlays that promote better support and stability during explosive movements, jumping and landing, while the breathable mesh panels provide plenty of airflow to keep feet comfortably fresh and dry during games. The rubber gum sole application provides grip on the playing floor. The shoe has a stylish look due to the famous ASICS stripes on the side of the shoe and features a removable sockliner, so you can easily put your own soles in the shoe.
Size Chart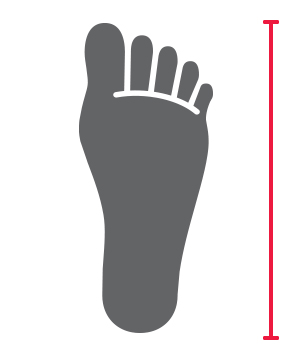 Choose the right size
Doubt about the right size? No problem at all! The size chart below can be used as a guideline for choosing the right shoe size.
The best time to measure your feet is at the end of the day. Because of the warmth and movement your foot swells a bit during the day.
Do you fall exactly between two sizes? Then we advise you to always choose the bigger size. If this size turns out to be too big, you can always return the shoes!
| Length heel-toe in CM | EU size | UK size | US Size |
| --- | --- | --- | --- |
| 17 | 27 | K9 | K10 |
| 17.25 | 28 | K9H | K10H |
| 17.5 | 28.5 | K10 | K11 |
| 18 | 29.5 | K10H | K11H |
| 18.5 | 30 | K11H | K12 |
| 19 | 30.5 | K11H | K12H |
| 19.5 | 31.5 | K12 | K13 |
| 19.75 | 32 | K12H | K13H |
| 20 | 32.5 | K13 | 1 |
| 20.5 | 33 | K13.5 | 1.5 |
| 21 | 33.5 | 1 | 2 |
| 21.5 | 34.5 | 2 | 3 |
| 22 | 35 | 2 | 3 |
| 22.25 | 35.5 | 2.5 | 3.5 |
| 22.5 | 36 | 3 | 4 |
| 23 | 37 | 3.5 | 4.5 |
| 23.5 | 37.5 | 4 | 5 |
| 24 | 38 | 4.5 | 5.5 |
| 24.5 | 39 | 5 | 6 |
| 25 | 39.5 | 535 | 6.5 |