Passion for Sports
Worldwide delivery
Call us: +31 416 652 803
Unfortunately, this product is no longer available.


The Wave Stealth V features a mesh upper, which is sportily incorporated into the shoe. An advantage of the mesh material is that your feet stay cool and dry during exercise. Also, the shoe provides maximum contact with the floor through Dynamotion Groove technologies. In addition to floor contact, this technology also increases flexibility in the forefoot. In short, all the key features to deliver top performance are combined in the Mizuno Wave Stealth V.

Features and benefits:
- Improved forefoot flexibility and maximum ground contact through Dynamotion Groove
- Wave technology provides specific lateral midfoot stability and dynamic cushioning
- Explosive push-off through SR Touch insert and high-level cushioning through responsive AP+ midsole
- Triaxial support mesh combined with air mesh for comfort inside and out
- Lightweight shoe that also offers maximum breathability
The Mizuno Wave Stealth V gives you power on the playing field. The shoe is a perfect choice for those who want the best of the best. The Mizuno Wave Stealth V ranks No. 1 in its class when it comes to stability and shock absorption. The stability of the shoe is enhanced by the new external heel cap, making jumping and quick movements even easier. The good shock absorption can prevent injuries and ensures that you can always keep getting the most out of yourself. The shoe owes the good cushioning to the Wave technology in the midfoot plate.
Size Chart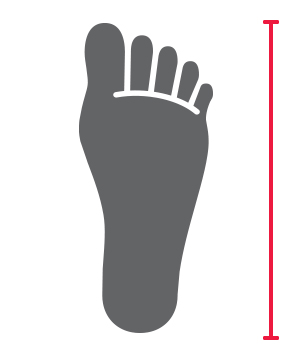 Choose the right size
Doubt about the right size? No problem at all! The size chart below can be used as a guideline for choosing the right shoe size.
The best time to measure your feet is at the end of the day. Because of the warmth and movement your foot swells a bit during the day.
Do you fall exactly between two sizes? Then we advise you to always choose the bigger size. If this size turns out to be too big, you can always return the shoes free of charge!
| Length heel-toe in CM | EU size | UK size |
| --- | --- | --- |
| 22.5 | 36 | 3.5 |
| 23 | 36.5 | 4.0 |
| 23.5 | 37 | 4.5 |
| 24 | 38 | 5 |
| 24.5 | 38.5 | 5.5 |
| 25 | 39 | 6 |
| 25.5 | 40 | 6.5 |
| 26 | 40.5 | 7 |
| 26.5 | 41 | 7.5 |
| 27 | 42 | 8 |
| 27.5 | 42.5 | 8.5 |
| 28 | 43 | 9 |
| 28.5 | 44 | 9.5 |
| 29 | 44.5 | 10 |
| 29.5 | 45 | 10.5 |
| 30 | 46 | 11 |
| 30.5 | 46.5 | 11.5 |
| 31 | 47 | 12 |
| 31.5 | 48 | 12.5 |
| 32 | 48.5 | 13 |
| 32.5 | 49.5 | 13.5 |
| 33 | 50 | 14 |
| 33.5 | 50.5 | 14.5 |
| 34 | 51 | 15 |