Passion for Sports
Worldwide delivery
Call us: +31 416 652 803


Features and benefits:
- Max Air unit
- Foam and mesh tongue
- Reinforced stitching
- Grip all over the sole
LeBron James' professional career has spanned almost two decades. Over the years, that means the design has to limit him less and less and offer more power and control. For that reason, the lightest LeBron model has now emerged. It still offers the support needed to outpace opponents. The LeBron Witness 7 has full-length visible Max Air cushioning, which provides certainty in jumping and landing. The cushioning is mainly placed at the forefoot, for reduced weight and increased responsiveness. The sole has a herringbone pattern, which provides grip all over the sole. The shoe contains breathable and reinforced mesh, which provides a lightweight and comfortable fit. In addition, the reinforced stitching on the shoe provides a good wrap around the foot, ensuring that the shoe moulds well around the foot.
Size Chart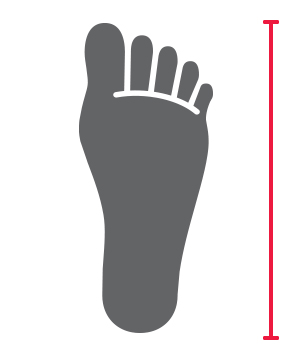 Choose the right size
Doubt about the right size? No problem at all! The size chart below can be used as a guideline for choosing the right shoe size.
The best time to measure your feet is at the end of the day. Because of the warmth and movement your foot swells a bit during the day.
Do you fall exactly between two sizes? Then we advise you to always choose the bigger size. If this size turns out to be too big, you can always return the shoes free of charge!
| Length heel-toe in CM | EU size | UK size | US Men |
| --- | --- | --- | --- |
| 22.5 | 36 | 3 | 4 |
| 23 | 37 | 3.5 | 4.5 |
| 23.5 | 37.5 | 4 | 5 |
| 24 | 38 | 4.5 | 5.5 |
| 24.5 | 39 | 5 | 6 |
| 25 | 39.5 | 5.5 | 6.5 |
| 25.25 | 40 | 6 | 7 |
| 25.5 | 40.5 | 6.5 | 7.5 |
| 26 | 41.5 | 7 | 8 |
| 26.5 | 42 | 7.5 | 8.5 |
| 27 | 42.5 | 8 | 9 |
| 27.5 | 43.5 | 8.5 | 9.5 |
| 28 | 44 | 9 | 10 |
| 28.25 | 44.5 | 9.5 | 10.5 |
| 28.5 | 45 | 10 | 11 |
| 29 | 46 | 10.5 | 11.5 |
| 29.5 | 46.5 | 11 | 12 |
| 30 | 47 | 11.5 | 12.5 |
| 30.5 | 48 | 12 | 13 |
| 31 | 49 | 13 | 14 |
| 32 | 50.5 | 14 | 15 |
| 33 | 51.5 | 15 | 16 |