Passion for Sports
Worldwide delivery
Call us: +31 416 652 803


Features and benefits
- Mesh upper provides a light feel and ventilation?
- Midfoot strap with integrated laces provides a locked-in and customizable fit?
- Openwork Perf X sockliner offers more compression for extra performance and comfort?
- Integrated Pebax® shaft provides stability around the midfoot?
- The sturdy UA Flow outsole ensures that you move better and faster than ever on the pitch
- Weight: 346 grams?
Do you want a shoe with the best grip? Then look no further because here is the Under Armor Flow Futr X! Due to the extremely good grip, you can turn and turn on the square centimeter. The new UA Flow cushioning technology is super light and resilient, leaving you with a trail of disillusioned opponents.
Size Chart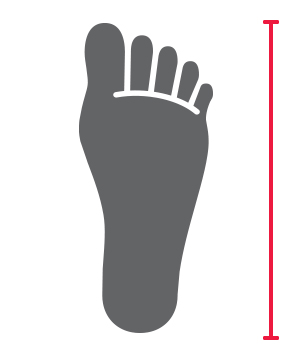 Choose the right size
Doubt about the right size? No problem at all! The size chart below can be used as a guideline for choosing the right shoe size.
The best time to measure your feet is at the end of the day. Because of the warmth and movement your foot swells a bit during the day.
Do you fall exactly between two sizes? Then we advise you to always choose the bigger size. If this size turns out to be too big, you can always return the shoes free of charge!
| Length heel-toe in CM | EU size | UK size | US Men |
| --- | --- | --- | --- |
| 25 | 40 | 6 | 7 |
| 25.5 | 40.5 | 6.5 | 7.5 |
| 26 | 41 | 7 | 8 |
| 26.5 | 42 | 7.5 | 8.5 |
| 27 | 42.5 | 8 | 9 |
| 27.5 | 43 | 8.5 | 9.5 |
| 28 | 44 | 9 | 10 |
| 28.5 | 44.5 | 9.5 | 10.5 |
| 29 | 45 | 10 | 11 |
| 29.5 | 45.5 | 10.5 | 11.5 |
| 30 | 46 | 11 | 12 |
| 30.5 | 47 | 11.5 | 12.5 |
| 31 | 47.5 | 12 | 13 |
| 31.5 | 48 | 12.5 | 13.5 |
| 32 | 48.8 | 13 | 14 |
| 32.5 | 49 | 13.5 | 14.5 |
| 33 | 49.5 | 14 | 15 |
| 33.5 | 50 | 14.5 | 15.5 |
| 34 | 50.5 | 15 | 16 |