Passion for Sports
Worldwide delivery
Call us: +31 416 652 803


Features and benefits:
- Bootie construction with connected fit
- Mizuno Enerzy in midsole
- High-density EVA insert and Mizuno FoamWave on the rearfoot offer premium stability
- Lightweight shoe due to seamless upper construction providing comfort and stability
- Smooth roll-off from heel to toe
The Mizuno Wave Luminous 2 is known for its combination of speed, cushioning and intensity on the playing field. The shoe for the all-round indoor athlete combines a smooth running feel with a high level of comfort and stability. Due to its light weight of just 310 grams and the applied MIZUNO ENERZY in the midsole, this model is softer and more resilient than its predecessor. The fully flat sole and widening in the forefoot provides extra stability, while the rounded heel and numerous flex zones in the forefoot ensure smooth running. The Luminous has a Bootie construction, which forms around the foot like a bandage, providing a perfect seamless fit with plenty of firmness. The material gives more stretch and is firmer than in the previous version, and also remains breathable through the use of AirMesh. A very big advantage is that this indoor shoe manages to combine the best of a running shoe and indoor shoe. The Mizuno Wave Luminous 2 has the cushioning and stability of an indoor shoe and the comfort, lightweight and smooth stride of a running shoe.
Size Chart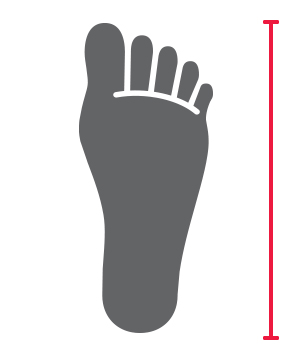 Choose the right size
Doubt about the right size? No problem at all! The size chart below can be used as a guideline for choosing the right shoe size.
The best time to measure your feet is at the end of the day. Because of the warmth and movement your foot swells a bit during the day.
Do you fall exactly between two sizes? Then we advise you to always choose the bigger size. If this size turns out to be too big, you can always return the shoes free of charge!
| Length heel-toe in CM | EU size | UK size |
| --- | --- | --- |
| 22.5 | 36 | 3.5 |
| 23 | 36.5 | 4.0 |
| 23.5 | 37 | 4.5 |
| 24 | 38 | 5 |
| 24.5 | 38.5 | 5.5 |
| 25 | 39 | 6 |
| 25.5 | 40 | 6.5 |
| 26 | 40.5 | 7 |
| 26.5 | 41 | 7.5 |
| 27 | 42 | 8 |
| 27.5 | 42.5 | 8.5 |
| 28 | 43 | 9 |
| 28.5 | 44 | 9.5 |
| 29 | 44.5 | 10 |
| 29.5 | 45 | 10.5 |
| 30 | 46 | 11 |
| 30.5 | 46.5 | 11.5 |
| 31 | 47 | 12 |
| 31.5 | 48 | 12.5 |
| 32 | 48.5 | 13 |
| 32.5 | 49.5 | 13.5 |
| 33 | 50 | 14 |
| 33.5 | 50.5 | 14.5 |
| 34 | 51 | 15 |